Dembidollo Eye Clinic: Eye surgery with Dr. Samuel.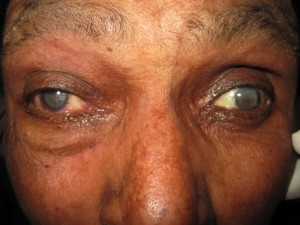 This patient had been suffering from blindness for years. She has not seen the faces of her children nor  grandchildren for years. She lost hope. She only recognized them by their voices. She came to the clinic and was seen by Dr. Samuel who diagnosed her as having bilateral cataract.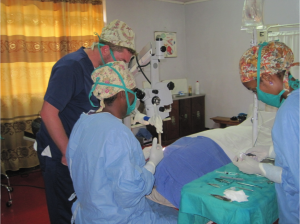 She was operated with her one eye and this was followed with her other eye a day after. After her first surgery, she was trying to look for her son among the crowds. She was not able to recognize him until we motioned to her son to go and show himself to her. It was a very emotional moment for a mother to see the face of her son after long years of being blind. Both mother and son crying with JOY and we all cried with them.
Post operative patients waiting to have their eye patch removed. It is a very dramatic moment when patients could suddenly see people, objects and their surroundings after been blind for years. Emotions of joy are expressed in many ways by the people – some would praise the Lord, some would sing from the clinic to their homes if only they could leap for joy!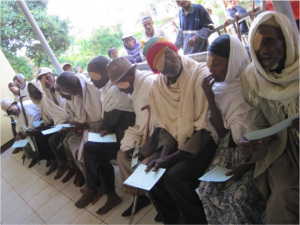 Dr. Samuel Bora doing cataract surgery at the Abba Philippos Memorial Eye Clinic, Dembidollo.  Because of this service, so many patients have benefited and are able to see again making them independent and productive. What a joy seeing these patients walking on their own – refusing to hold hands with their guides (mostly children and young adults).